March 5, 2014 in Home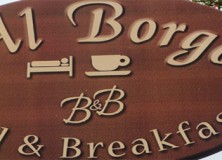 In the heart of the historic center but not bound by limitations of traffic and with its own parking with separate entrance, is the cozy B & B Al Borgo.
Immersed in the green with a large garden and a terrace equipped with every comfort; has cozy rooms, bright and well cared for by family management.
At 15 km from Terme Euganean known for each type of care and relaxation.
The B & B "Al Borgo" wishes you a happy holiday.
Comments are closed.